Nintendo eShop Card 10 USD Nintendo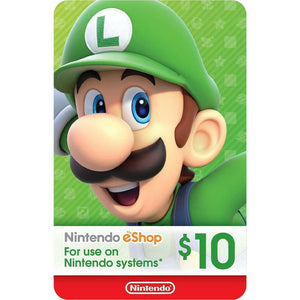 Nintendo eShop Card 10 USD Nintendo
Regular price
Sale price
$14.50
Nintendo eShop Card 10 USD Code

Experience more enjoyable content on your Nintendo systems with this prepaid card eShop on the Nintendo Network. Choose from a variety of games, videos and more that download in seconds and can be played or viewed on your Nintendo Wii U or 3DS.

Nintendo eShop Card is a convenient way to virtually shop for Nintendo stores. With this card you can safely and anonymously buy classic and new Nintendo games without using your credit card or bank account.

The Nintendo Card is the perfect gift for anyone who loves to play.

Key features:
It's easy - apply it to your Nintendo eShop account in seconds.

It ensures that you'll always have funds on hand for new games and applications.

It's designed for security with your Nintendo eShop purchases - no credit card required

How to Redeem:
Please note that each currency of this product can be redeemed only on accounts with the same currency. (e.g. USD card on USD balance account.)
For Use only on Nintendo Switch, Nintendo 3DS and WiiU.
In order to redeem the Code:

Select the Nintendo eShop icon on the HOME menu.
Select "Add Funds." or "Balance."
Select "Redeem a Nintendo eShop Card."
Enter the 16-character activation code from the back of the prepaid card, then select "OK" to complete the transaction.

 ****This is Digital code - Email Delivery only****
Similar products
Customers who viewed this item also viewed