Xbox Game Pass Ultimate 1 Months -Digital code (Trial Code, Region: USA)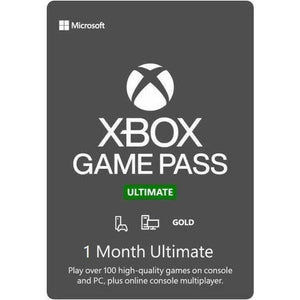 Xbox Game Pass Ultimate 1 Months -Digital code (Trial Code, Region: USA)
Regular price
$9.99
Sale price
$2.99
**For USA customer ONLY, if you are living outside of USA and you need to use VPN to connect with USA IP address and change the region to USA in your account before redeeming this code.**
**When you are redeeming this code, you MUST have/add a VALID PAYMENT METHOD to activate the code on Xbox. This can be removed once activated. **


Xbox Live Gold and over 100 high-quality games for one low monthly price. Play together with friends and discover your next favorite game
Key features:
Xbox Game Pass Ultimate is included Xbox Live Gold and Xbox Game Pass feature

With Xbox Live Gold, you'll enjoy lightning-fast online multiplayer gaming thanks to hundreds of thousands of dedicated servers offering low lag and reduced cheating.
Xbox Game Pass is like Netflix for games! New games are added every month, including brand new titles the day they release.
Over 100 games are now available for PC, with more being added soon!
With Game Pass Ultimate, you can download games directly to your Xbox One or PC to play 24 hours a day, on or offline.
****This is Digital code - Email Delivery only****
| | |
| --- | --- |
| Activation Region : | USA |
| Platform : | Windows PC, Xbox One, Series X, Series S |
All our products are to be delivered within 5 to 10 minutes by email. You can just copy and paste to redeem it on your console or PC.
How to Redeem:
For living inside of USA countries:
Redeem an Xbox Game Pass Ultimate 1 Month code on the console

1 Sign in using your account on Xbox LIVE for which you want to use the prepaid code.
2 Press the Guide button on the controller.
3 Select marketplace and then the Redeem Code.
4 Enter the 25 - character prepaid code and select Done.
5 Click Yes when prompted to confirm the redemption.

Redeem an Xbox Game Pass Ultimate 1 Month on a web browser
1 From a web browser, go to redeem.microsoft.com.
2 Sign in, enter the 25-character code, then follow the prompts. Don't worry about hyphens, the system takes care of those for you.
For living outside of USA countries:
Redeem an Xbox Game Pass Ultimate 1 Month code on the web browser
Xbox game pass unlimited 1 months -digital code
It never worked I would like a refund please thank you
Xbox Game Pass Ultimate 1 Months -Digital code (Trial Code, Region: EU)
Similar products
Customers who viewed this item also viewed
Xbox game pass unlimited 1 months -digital code
It never worked I would like a refund please thank you
Xbox Game Pass Ultimate 1 Months -Digital code (Trial Code, Region: EU)