Xbox Live 6 Months Gold Membership Code (VPN Activation)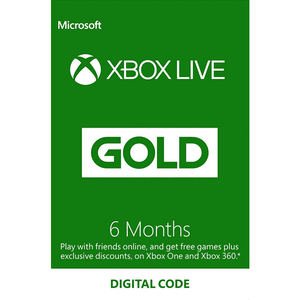 Xbox Live 6 Months Gold Membership Code (VPN Activation)
Regular price
$39.99
Sale price
$16.99


****This card is India Region, You have to activate it with a VPN, which only takes 5 minutes using our instructions.  Once activated, it will work in any country, just as if you had activated a worldwide code.****
Experience the best in gaming and entertainment with Xbox LIVE Gold. Raise the curtain on your own instant movie night with HD movies, TV episodes and sport streamed instantly from Sky Player. (Sky Player membership sold separately). Invite friends all over the world to connect, cheer and play online multiplayer games. And as a Gold member, you'll enjoy exclusive Deals of the Week that save you money and special sneak-peak game demos that give you early access to the newest and latest.
Key features:
Online multiplayer gaming
Access to streaming HD movies, sport and TV on Sky with Sky Player*
Connect with friends using Facebook
Post Tweets on Twitter
Personalized music from Last.fm and Zune
Gold-exclusive discounts
Early access to content
****This is Digital code - Email Delivery only****
| | |
| --- | --- |
| Activation Region : | VPN Activation Required |
| Platform : | Xbox 360, Xbox One, Series S, Series X |
All our product to be delivered within 5 to 10 minutes by eMail. You can just copy and plaste to redeem it on your console or PC.
How to Redeem:
Redeem an Xbox Live Gold 6 months code on the console
1 Sign in using your account on Xbox LIVE for which you want to use the prepaid code.
2 Press the Guide button on the controller.
3 Select marketplace and then the Redeem Code.
4 Enter the 25 - character prepaid code and select Done.
5 Click Yes when prompted to confirm the redemption.

Redeem an Xbox Live Gold 6 months code on a web browser
1 From a web browser, go to redeem.microsoft.com.
2 Sign in, enter the 25-character code, then follow the prompts. Don't worry about hyphens, the system takes care of those for you.

Similar products
Customers who viewed this item also viewed